© 2015 Cardiff Scientific Society

Lectures are held in the Large Chemistry Lecture Theatre, Main building, Cardiff University
Lectures (members only) commence at 7.30pm and last approximately 1 hour
Membership can be bought online, by post and at the door!
The society is a members only, non-profit making organisation that retains the aims set out when it was founded in 1926
"By Lectures, Demonstrations, etc, of a popular nature, to extend interest in the application of Science to everyday life"
The atmosphere is informal and friendly with fortnightly audiences of between 75-200 people.
Click on the "Join" tab above for information on how to join.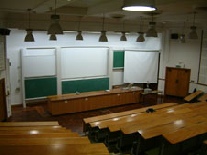 Next year's programme is taking shape:
2016
5 October : TBC
19 October Darren Williams (Kings) Watching neuron trees grow in fruit flies
2 Nov: Rob Pepperell (Cardiff Met)
Human vision/perception in context of art
16 Nov Paul Younger (Newcastle)
Geoengineering
30 Nov Jehane Ragai (American University in Cairo) – Forgery in art
14 Dec Val O'Donnell (Cardiff) – Infection/Immunity
2017
11 Jan Ken Harris (Cardiff)
25 Jan Jenny Pike (Cardiff)
Historical climate change from Antarctic records
8 Feb Paul Harper (Cardiff)
Maths Saves Lives
22 Feb Rob Shave (Cardiff Met)
Impact of exercise on human heart
8 March Rudolf Allemann (Cardiff) Presidential Lecture
15 March AGM
22 March Kathy Willis (Oxford/Kew)
Biodiversity and Climate Change