☰ Cardiff Scientific Society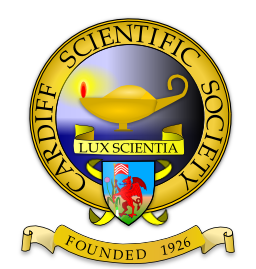 All lectures will be held in the Large Chemistry Lecture Theatre, Cardiff University Main Building, Park Place, commencing at 7.00 pm. Cardiff University's Main Building (CF10 3AT) sits opposite Cathays station on Park Place, a short walk from the City Centre. Parking is available in the University Quadrangle, Park Place. Easiest access to the Large Chemistry lecture theatre is by directly entering the Chemistry Wing from the Park Place side of the as this leads directly to stairs and a lift to the first floor. The doors are locked but will be opened from the inside by one of our members who will also have a key card to allow use of the lift to the first floor. If no member is present to assist then disabled access to the Chemistry Lecture Theatre can be arranged by contacting University Security on 029 2087 6917.
From the top of the stairs follow signs to turn to your right through the doors, then right again down the corridor. At the end of the corridor turn right and the theatre is on your left.