☰ Cardiff Scientific Society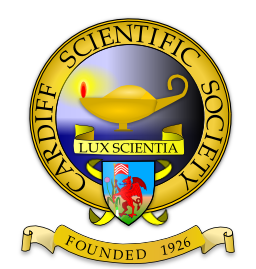 The Lord Phillips Memorial Lecture: The Infinite
Professor John D. Barrow FRS

Cardiff University
28th September 2008
Infinity has many manifestations and a long history. It is a big subject. We look at some of the special problems that it has created for mathematicians, physicists, astronomers, philosophers and theologians. Can we imagine it? Should we believe in it? And should we allow it into our theories of Nature? An attitude towards infinities plays a central role in guiding the direction of research in modern particle physics and cosmology. It also presents some interesting challenges for the public presentation of science. Why did we choose it as the central theme of the play 'Infinities'?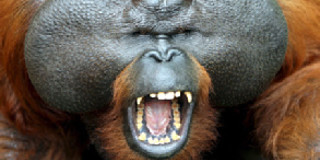 Endangered Species Research: Patterns, Process, Prioritisation and Politics
Professor Michael W. Bruford

Cardiff University
1st October 2008
Biodiversity is currently experiencing the sixth major wave of extinction since life evolved on earth. Previous extinction events are thought to have been triggered by major geological eruptions and global impacts. This current extinction crisis is, however, different and is now agreed to be anthropogenic in its origin, the first example of the actions of a single species negatively impacting on global biodiversity in Earth's history.
Since humans have largely caused the current extinction event, humans also potentially hold the key to reversing the trend and it is in this context that the science of conservation biology first emerged after the publication of the Silent Spring in the early 1960's. The science of biodiversity conservation has evolved dramatically in the nearly 50 years it has been recognisable and now includes molecular biology, global information systems and complex modelling of ecosystem/climate interactions. Our work, based mainly in the tropics and mostly focusing on flagship mammal species, uses molecular genetics (DNA profiling) of endangered populations to elucidate their demographics, history and future prospects. I will focus on work we have been doing in Borneo and China, specifically with the giant panda and Bornean orang-utan and elephants, to develop integrated conservation solutions for these vanishing species, including the science involved but also the political and practical issues of converting scientific research into direct action for conservation and sustainable biodiversity management.

The Herschel & Planck Satellites: Exploring the Big Bang and the formation of Stars and Galaxies
Professor Matt J. Griffin

Cardiff University
15th October 2008
Herschel and Planck satellites, which have been developed and built over a period of more than ten years. Both satellites use advanced detectors and instruments, cooled to very low temperatures for maximum sensitivity. By observing the faint radiation left over from the early universe, Planck will reveal to us what happened during the first split second of the big bang. Herschel will tell us how the galaxies formed when the universe was only a tenth of its present age, and how new stars are forming now in our own galaxy. The talk will give an account of the main scientific objectives of Herschel and Planck, and of some of the technical advances that have made them possible.

Rescuing the Leaning Tower of Pisa - the Inside Story
Professor John B. Burland FRS

Imperial College London
12th November 2008
Imagine a tower, founded on very soft material and slowly inclining to the point at which it is about to fall over. Worse still, the masonry is so fragile that it could explode at any time. This is a reasonable description of the state of the Leaning Tower of Pisa at the time that the Italian Prime Minister set up a Commission to stabilise it in early 1990. After years of study and trials, stabilisation measures started in February 1999, using a novel method of soil extraction from beneath the high side of the foundation, which brought the Tower back to its inclination in 1838. I will share some of the challenges, frustrations and more worrying moments of participating in such a high profile and difficult project.

Aspirin, Heart Disease, Stroke & Cancer: a Truly Miracle Drug
Professor Peter Elwood

Cardiff University
26th November 2008
Many herbal remedies depend upon salicylates for their effect. In 1897 a chemist mixed salicylic acid, obtained from Meadowsweet, and vinegar. The powder produced - acetyl salicylic acid (aspirin) - was found to be effective against fever, headaches and pain. Around 1960 aspirin was found to reduce the 'stickiness' of blood platelets - a key element in thrombosis. The first clinical trial in heart disease was conducted in Wales in 1974 and since then a reduction of 20-30% in strokes and heart attacks has been confirmed in over 140 trials. More recently, evidence suggesting a reduction in cancer by aspirin has been reported from a wide variety of sources. Is aspirin a cheap common household remedy, or a truly miracle drug?

Towards Health for All in Africa - Who Cares?
Professor Stephen Tomlinson

Cardiff University
10th December 2008
Africa has less than 3% of the world's health workers struggling to combat 25% of the global burden of disease, with 1% of the expenditure; the great infectious killers, HIV/AIDS, TB and Malaria have yet to be defeated whilst non-communicable diseases such as heart disease, high blood pressure, diabetes, cancer and mental illness are on the increase.
What can we do? We can help to improve basic health services through supporting sustainable educational and research links to increase numbers of vital healthcare workers. However, major improvements in health can only be achieved in the wider context of International Development. Clean water, sanitation, nutrition, agriculture and access to transport all have an obvious impact on health and public education is essential. We must work together to help those in greatest need. We can make a difference!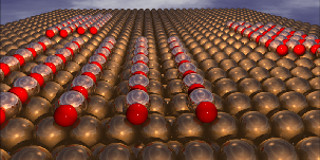 Nanotechnology: from Small Beginnings Come Great Things
Dr Philip R. Davies

Cardiff University
7th January 2009
Nanomaterials have at least one dimension less than one thousandth of a millimetre, many are much smaller. At this scale novel electronic and chemical properties develop; inert gold for example becomes chemically active. Because of their small size most of the atoms in a nanoparticle are at the surface and it is the properties of the surface that dominate much of a nanoparticle's behaviour. New techniques allow us to study individual molecules at the surface during a reaction and thus shed light on the structure and reactivity of these revolutionary materials. The talk will highlight some of the novel properties of nanoparticles and look at future developments with illustrations from our own work and that of others in the area.

Antimatter in the Universe
Professor Michael Charlton

Swansea University
21st January 2009
I will introduce antimatter by recalling its prediction and discovery. Some local sources of antimatter in the Universe will be described, as will a major experiment to search for antinuclei in cosmic rays. The motivation for the latter will be discussed and this will serve to introduce antihydrogen - which will form the bulk of the talk. I will describe why one should want to make this antiatom on Earth, along with our experiments which have done so, some selected results from them and a look at the future.

The Severn Barrage and its Potential Hydro-Environmental Impact on the Estuary
Professor Roger A. Falconer

Cardiff University
4th February 2009
The presentation will review the current main Severn Barrage proposals, and review alternative options such as Offshore Tidal Impoundments. In particular, emphasis will focus on assessing the potential hydro-environmental impact of a barrage on the estuary. An outline will be given of recent research undertaken at Cardiff University on bacterial-sediment interactions and the application of computational hydro-environmental models to predict the impacts of a Barrage on tidal elevations and currents, sediment transport and water quality indicator levels. The presentation will show that the Barrage will reduce the tidal currents in a highly dynamic estuary, leading to reduced suspended sediment loads, increased light penetration within the water column and a change in the bio-diversity in parts of the estuary.

Nuclear Energy: a Risk Worth Taking?
Dr Paul J.A. Howarth

Manchester University
18th February 2009
The Government's Energy Review has highlighted the role nuclear energy can play in delivering a sustainable energy mix for the UK. Nuclear has come back into the equation given concerns over increase in oil and gas prices, rising CO2 emissions, the potential for blackouts, fossil fuel imports and uncertainty over renewable sources. However, against this backdrop nuclear energy generating capacity will decrease significantly over the next decade as many stations come off line and the timeframe for new nuclear build is tight.
New nuclear build projects are being delivered to time and cost with high levels of reliability in countries such as Japan, China, South Korea with new plans in France and Finland. This presentation will consider the viability of new nuclear build, what products are available, their performance and characteristics.

William Smith (1769-1839) and the beginnings of Geological Mapping
Tom Sharpe

National Museum Wales
4th March 2009
The English canal and mineral surveyor, William Smith, established the principles of stratigraphical geology and demonstrated them through his 1815 geological map of England and Wales. Claimed by some as 'the map that changed the world', it has achieved iconic status in the earth sciences. It was certainly ground-breaking and established geological map-making in the modern sense, but its development was far from straightforward and its publication history is complex. It never achieved the success for which Smith hoped, nor did it provide the income he needed. It is ironic that today the maps are highly collectable and command significant prices. This lecture will look at the history of the map in the context of the developing structure of the new science during the first few decades of the 19th century.

Why Can't a Man be More Like a Woman?
Dr Jane H.V. Mellanby

Oxford University
18th March 2009
Stereotypes of behaviour exist for girls and boys at school, for their choice of subjects and their career choices. Close scrutiny shows many subtle differences in the structure and function of male and female brains. Small differences in cognitive function test scores e.g. spatial and verbal function, also exist. Is this 'nature', due to intrinsic sex differences? Or does 'nurture', being treated differently or subjected to different expectations, lead to the differences in brain function? Are the cognitive differences relevant to academic success in different subjects? Why does the superiority of female performance at school contrast so starkly with the superior performance of males (in some subjects) at the most selective universities?